[ demko.ca ]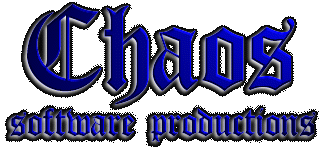 ---
Welcome to the Chaos homepage! Chaos Software was my little BBS-era (1990s) software company that made 16-bit PC software. This page exists mostly for historical/nostalgic purposes.
files
All the software here requires one of:

A PC running DOS, really.
32-bit Windows that can run 16-bit MS-DOS programs.
The DOSBox emulation software. This is the best option as it emulates everything you need on any modern OS and processor.



Drip is a classic Columns clone with many additional features to enhance the original game! Although the rules are simple, it will take you many hours to master the game and beat all the stages! Features include:

Two player, head to head mode
Full ray traced VGA graphics
Digitized SoundBlaster sound support
Bombs! WildCards!
Changing sound and graphics as you progress through stages


WinBat is a Windows BAT file interpretter. Now you can write batch files for windows that spawn other Windows (or DOS) programs, show message boxes and sound beeps. Also works well with local Intranets to allows client side program execution.


Chatter allows SysOps to VOICE chat with their users. No more long hours typing pages of chatter, now you just pick up the phone and chat. The program automatically re-establishes the link, allowing the user to go back to the BBS without dropping carrier. Many options: configurable page sound, chat hours and chat logging!


ANSI based BBS door based loosly on the Dungeons & Dragons fighting system. Contains many options.


This door alows the user to view any file (ANSI, Avatar, Rip or text) on a BBS. You simply place all the files you want the user to be able to view in a predifined directory. Supports navigation of sub directories.


This kit allows you to bind any number of textfiles with a GUI artical reader into one EXE. The reader itself supports 50 line text mode, multiple viewing and the mouse. Very easy to use.

Copyright © 2014, Aleksander Demko All Rights Reserved